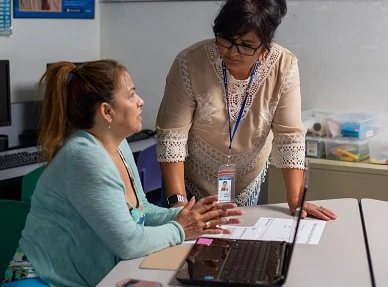 Needing to prepare for the SAT or ACT? Maybe you are looking for options to study for the GED? We have these and other options such as:
GED
SAT/ACT
GMAT
GRE
LSAT
Learn more about by visiting Ed2Go.
GRE Prep: Part 1
Discover powerful strategies for success in the verbal reasoning and analytical writing sections of the GRE; revised General Test (course 1 of 2).
GRE Prep: Part 2
Learn a variety of useful techniques for tackling the quantitative reasoning sections of the computerized GRE; revised General Test (Course 2 of 2).
PMP Certification Prep 1
Begin a well-paying career as a project manager by preparing to take and pass the PMP certification exam.
SAT/ACT Prep: Part 1
Master the reading, writing, English, and science questions on the ACT and new SAT.
Select your course
Provide full name, physical address, phone number, email, DOB
Pay and receive confirmation of enrollment
It's that easy to be on the path to learning what you want, when you want! Placement exams are rarely required. No residency requirements.
The credential you earn from Pima stacks up toward advanced certifications and degrees at Pima. Through our Prior Learning Assessment program, you can earn up to a semester's worth of college credit, depending on your course of study at Pima. And if you already have an industry credential, it can convert into even more college credit at Pima.
Online Noncredit Courses and Degree Options
In partnership with ed2go, we offer online open enrollment programs designed to provide the skills necessary to acquire professional level positions for many in-demand occupations.

Our programs are designed by a team of professionals from each respective field, providing you with effective web-based learning programs. Instructors/mentors are actively involved in your online learning experience, responding to any questions or concerns, as well as encouraging and motivating you to succeed.
Pima's credit degrees and certificates will prepare you for a rewarding career—whether you're looking to start a career, want to upgrade your skills in your current career, or are planning to transfer to a university to complete your bachelor's degree.
Visit our Degrees & Certificates page to learn more about what Pima offers for you.
Most courses are available for students interested in learning without earning credits. Noncredit registration in our credit classes begins three weeks prior to the first day of class.
Step 1: Search our credit schedule of classes.
Step 2: Select your section and call us at 520.206.4737 to complete your registration.
Course Refunds
To learn more about Pima Continuing Education refund policy, visit our Information & Services page.